Citroen C3 review – Bumper car or future great?
In 1987, Tinker Hatfield was inspired to create the Nike Air Max. A shoe that basketball players and hooded youths alike took to their heart.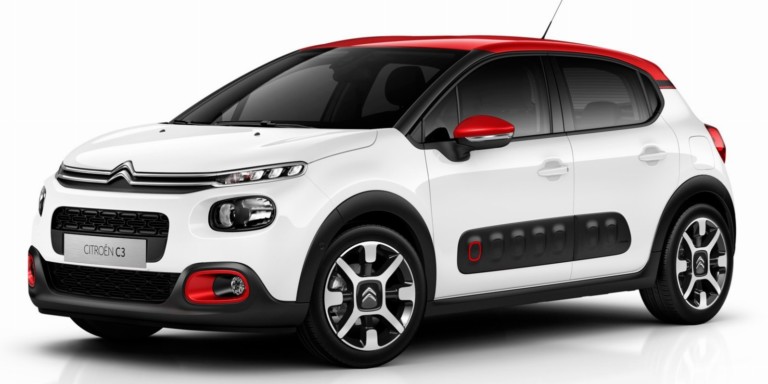 But it wasn't the irresistible tick that drove consumers crazy it was a nifty little air bubble in the heel which caused many a teen to walk around town like a spaceman with a wedgie.
30 years later and Citroen have decided to honour Hatfield and appeal to the hooded massive with their latest offering the Citroen C3 Feel BlueHDi 100 SS Manual Feel, for ease and word count we will hereby refer to it as the C3, featuring Air Bump side inserts… that's right it's a bumper car.
Let's get it out of the way, the C3 features Air Bumps as standard on the top trim. For the accident prone, the Bumps will be a dream come true, for others it could prove a step too far. It's personal preference, as our fleet manager appreciates the ability to switch out panels if they become damage, whereas I feel manufacturers are going too far with their customisability, these are cars, not phones!
Petrol / Diesel
There is a choice of five engines in the C3 range, three petrol comprising a 1.2 PureTech three-cylinder with either 68hp, 82hp or 110hp. The 1.6 diesel features either 75hp or 100hp. All choices come with a five or six-speed gearbox although only the top-spec petrol model comes in automatic.
If you travel up and down the motorway most days you're probably better off going for the higher horsepower unless you want to feel like Fred Flintstone. The added turbocharger gives you the punch you need alongside improved performance from lower revs making it a relaxing drive. However, don't dismiss the petrol models if you do a lot of urban driving, they are highly regarded as being economical and nippy.
The diesel does well with the power it's provided although it does produce some vibration when idle. Just think of it as a mini massage while you wait for the lights to change.
Comfort or contortion?
Citroen has opted for a softer suspension in the C3 which can make it feel a light spongy at times. Maybe it's the added room in the wheel arches but whatever it is we'd advise not engaging in a Dukes of Hazard car chase, especially now that whiplash claims are on the way out. Either way, with our pothole ridden roads, a little extra give can actually make a big difference.
Citroen has gone 'old school' with the handling of the C3, there is a lot of body roll in the corners, so taking it easy when cornering, this vehicle isn't meant for the track! Steering is accurate and reasonably linear, though.
The C3 features some great positional features for the driver from seat height adjustments to a steering wheel that can perform the hokey cokey. Unfortunately, the seats don't offer any side support so be careful when taking a sharp corner otherwise you could end up with a passenger on your lap.
Infotainment
As with most new vehicles, the dash looks more like the cockpit of a 747 than a road car. Bells and whistles protrude from every orifice as technophobes cower behind their steering wheels. The dashboard isn't cluttered with unnecessary buttons and dials, instead opting for a seven-inch touchscreen. The downside is that you'll have to use the touchscreen every time you want to adjust the temperature due to the lack of dedicated heater controls.
The touchscreen provides access to DAB radio, Bluetooth, hands-free phone synchronicity and satellite navigation. The menu worked well and within a few hours, we were navigating it like a pro.
Give me space
The Citroen C3 excels when it comes to front seat space. Regardless of your size, you should be able to fit into the vehicle with ease, with room to spare. If you're the type of person who likes to drink and drive (non-alcoholic of course) then the addition of a couple of cup holders and door pockets that comfortably hold a 500ml bottle should put a smile on your face.
The back seat isn't quite as spacious. While children will fit without issue the constant ferrying of adults could result in complaints of cramp. In the event of any back-seat moaners simply drop them at the nearest bus stop.
The boot space is average for its class and should comfortably fit four large shopping bags or a couple of travel cases. Multiple bodies may prove more difficult…
Safe and sound
The top spec Citroen C3 Flair model features a built-in dashcam to protect you should you get into any scrapes where liability could be an issue. A dashcam is also a great tool for driving instructors who wish to record lessons for pupils who are then able to review the footage.
Born to ride
If you purchase the 1.6-litre diesel before April 1 then you will pay no road tax as it comes nicely under the 100g/km emissions limit. The diesel will also drink less fuel (depending on how it's driven) so could work out cheaper for those doing long hauls.
Verdict
The Citroen C3 is a nice little car, provided you like the quirky Air Bumps. The built in dashcam could be a game changer for driving instructors who want to separate themselves from the pack with a decent USP.